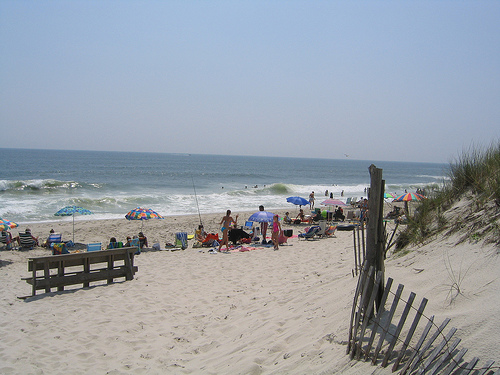 You haven't missed much in the past week and a half since I last posted. I spent most of last week out of work (the unpaid day job at least) because I "threw my back out." I'll spare you the details, but due to back and hip problems, my back locked. I was pretty useless. It got really bad on Thursday, and I thought about going to the Emergency Room... yup, even without insurance; it was THAT bad. Fortunately, I recovered enough to celebrate Dan's birthday at the beach. However, no exercise for more than a week did not help my weight loss, but either did the drinking, fudge, gelato, and greasy bar food. Blah. The week before, I lost a pound. On Tuesday, I weighed in 3 pounds heavier. Gross. Although I haven't had the opportunity to exercise yet this week, I'm already seeing the scale go down. I think a lot of it has to do with my water consumption. I definitely didn't drink enough last week. I'm trying to get better. Right now, I'm heavily dependent on my liter bottles of "flavored" sparkling water.
In wedding news, I had a slight bump in the road with my bridesmaids. There are six of them so it is easy for drama to ensue. I think things are better now. Now, I just have to pray that my bridal shower and bachelorette party go off without a hitch. I'm so glad they doing that for me so I don't have more to stress about. I love my girls :) Dan and I are also starting to get RSVPs back. I wish we were getting more each day. It seems we're only getting about 1per day right now. I was really surprised by the first responders. Surprisingly, my immediate family and most of our wedding party has yet to respond. They still have plenty time. I'm just getting excited now! We're already thinking about seating arrangements. I'm kind of surprised by the meal selections thus far, too. We offered guests filet mignon or chicken saltimboca. Thus far, the vast majority of people has chosen beef.
I'll post pictures of more wedding things (like my candle votives) soon.