Here in Monmouth County, NJ, we've had what feels like a weekly snow storm. This week's storm did not disappoint. For fear of heading to work and being unable to make it home, I stayed home Thursday. On Thursday night, the storm only intensified, so the courthouse was closed Friday. In other words, I only had a three-day work week... again. I wouldn't complain if it weren't for the fact that I'm working for school credits. Anyway... snowstorm = staying inside watching movies and playing on the computer... ZERO calories burned; trust me.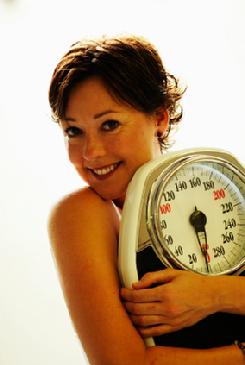 On Friday, I decided to break my weekly tradition of stepping on the scale first thing Tuesday morning and instead, weigh myself that morning. I have passed a very significant weight landmark for myself! It really made my day. I weighed myself midday today, and as it stands, I've lost 6 pounds this week! It's fantastic!!! I just hope the weight loss continues into Tuesday when I have my official weigh in. If not, I'd be so disappointed.
Here are my WW point totals so far this week:
Tues: 22/7
Wed: 26/27
Thurs: 27/27
Fri: 20/27
Sat: 26/27
I went to South Jersey on Saturday evening to meet with DJ Wil of
http://www.diamonddjandsound.com
. I got to the mall a little early so I went to Macy's with my Star Rewards coupons handy to look for wedding earrings. After 40 minutes, with Dani's help, I walked out with a sweet deal on these earrings (and a second pair of earrings suitable for work). As far as my meeting with the DJ goes, DJ Wil was very personable yet professional, and his prices were VERY reasonable. I really look forward to working with him. He makes me feel as though the life of my party is in good hands.
Today, I drug Dani (bridesmaid) and Wayne (best man and Dani's fiance) to the Columbus Farmer's Market in hopes of finding wedding stuff. Well I got a great hounds-tooth scarf at a great price AND... metal scoops for the candy buffet! I looked around for large, clear glass bowls and canisters for the candy, but due to the weather, there weren't many vendors out. I'm definitely going back when the weather gets a little warmer so I can check it out again.
TOTAL WEIGHT LOSS
(since heaviest): 50 lbs!